Didn't have the Latin for judicial inquirin'

The first phase of the judicial inquiry into the Pike River Coal-mine disaster has ended,* after so many eyebrow-raising revelations that my forehead has RSI. It appears that the mine company was cash-strapped,
2
operating a money-hole
rather than a mine.
Corners were cut
; the legally-required emergency exit was placed in the "Nice to have one day" file;
urgent warnings about explosive gasses
were placed in the circular filing cabinet.
The company CEO testified that
he never heard those warnings
from any of the six people who served as mine manager in two years. All this was possible because a previous Tory government had removed the onerous, innovation-stifling hand of bureaucratic regulation from the mining industry in 1993, and subsequently sacked safety inspectors in 1999, making mining companies responsible for their own health-&-safety (under the oversight of a central inspectorate that at the time of disaster had been reduced to
a single person
).
We might as well be living in
Eastern Europe
the US.
Disappointingly, no-one has defended the mine management against the methane-neglect accusation by claiming that the subtle aroma of methane is exactly what distinguishes a productive excavation from one that is mediocre.
Thus I am robbed of the opportunity to remark that "great mines stink alike". Also, the
Riddled
Ethics Committee informs us that it would be exploitative and wrong to make political capital from the Pike Creek Mine disaster inquiry. "You are all loonies," she went on to say.
In contrast, exploiting disasters for
commercial
gain is in the finest NZ traditions. With that in mind, here at
Riddled
Research Laboratories we have been working on safe new technologies that can potentially replace traditional mining procedures completely. Here is a peak preview of our
Subterrine
or Bathyscrape.
The one-man subterrine is cheaper and more maneuverable than the two-man version. However, there is less elbow-room for the operator to chip away at coal once he has encountered a rich seam,
3
and a smaller payload to bring back to the surface. Also the rock does not flow around the sides of the subterrine as easily as we had hoped but these are mere teething troubles.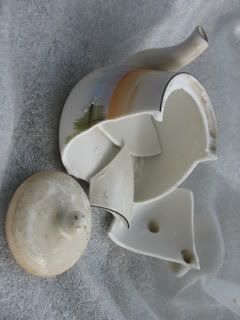 * ...It's safer work, judging, than mining. You're not troubled by falling coal, for one thing… You get judges remarking on it. They say, "Hello, no much coal falling these days!"

2 The confluence of conspicuous consumption with the S&M scene is not a pretty picture.

3 Then there's running at the coal face with your 'ead – one of the worst methods, know as the Bad Method of getting out coal. There there's scrabblin' at it with you bare 'ands, the Almost as Bad Method of getting out coal. And there's myriad others.
UPDATED with bonus illustration from
De re Metallica
. Which is totally not a heavy-metal fan site. Also, Agricola is not the name of a rival caffeinated fizzy drink.