... Coming home from taking the pygmy lions for a walk -- and this after a long day of Lacrosse practice -- to discover that some photographer has used your garden to shoot Calvin Klein underwear advertisements.
The thorn tree was only just growing back from the plague of A-phids that knocked it back last year. This really is the pits.
We tried guard dogs to discourage the university students from wandering onto
Riddled
Estate but that didn't really help either.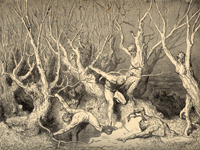 Another Kiwi is on the verge of giving up and replanting the gardens with
Upas trees
and
laser-beam sunflowers
, just like all the neighbours.
* Apart from the one with Kate Beckinsale and the peanut butter, just saying, that would be a really mean trick to play on me with the

Riddled

Dream Machine, if someone wanted revenge for switching labels between the superglue tube and the haemorrhoid cream.