It is not clear whether Robertson Davies had visited the Hunterian Museum when he wrote
The Rebel Angels
: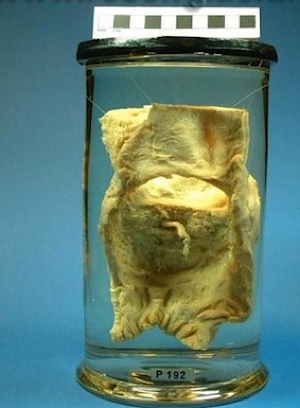 Where else but the
Hunterian
, after all, can you go to look at a bishop's rectum?
This is a rhetorical question --
Riddled
has recently upgraded to
Rhetor 2.2
and we are determined to get full value for the investment -- so do not feel obliged to provide an answer, even if you can think of one.
Image not so clear here, but more of the background is visible:
Some would call for a revival of this old tradition of "Dissecting clergy" (not to mention "Dissecting generals" and "Dissecting statesmen"), but we could not possibly comment.