Chronic Lyme Disease
advocates are no longer speaking to the
Morgellons Disease
enthusiasts, regarding them as parvenus and wannabees who should keep to their own specialised websites and stop bringing other delusional illnesses into disrepute.
Morgellons Disease Jul 2, 2007
**Please note that unfortunately, the Lymebuster forum can no longer be affiliated with the original Lymebuster website. We will not go into specific details, but evidently she does not like that we include Morgellons disease on our board despite the obvious connections for many of us. We will continue to keep our focus on getting recognition toward the seriousness of Lyme and Morgellons diseases.
Despite the turf war over the misleading name,
Lymebusters
remains the go-to place for all my photographs-of-delusional-skin-lesion needs, with the
Morgellons Research Organization
as a close second.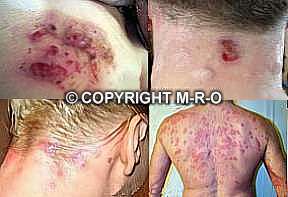 Wandering around this corner of the Interlattice has taught me more than I really need to know about colloidal silver, chemtrails, covert mercury toxicity, chelation therapy, hyperbaric therapy and proprietory remedies for nanobacteria and
invisible
atypical mycobacteria. I have also learned that these disorders typically take the form of little red arrows appearing on the skin.