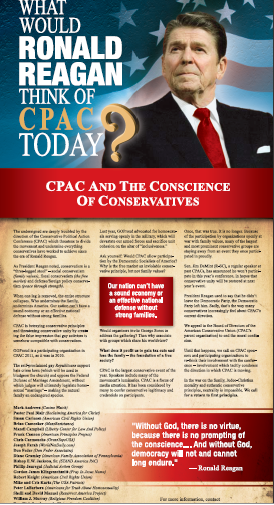 For some folks, change is bad and sometimes that means that you have to deny reality. To this end, a group of bigots who are agitated about teh GHAYZ being at their once beloved cluster fuck, have taken out a full (fool) paged ad decrying the possibility that they might catch gay germs.
As the clincher they ask what 100 year old (but now convincingly dead) Ronald Reagan would think of the Conservolypse what with all the gay types smelling up the place.
One might as well ask what other convincingly dead people would think of the blechfest and the small minded throwbacks and their boo-hooing about homo cooties.
And then again what Ronnie thought about gays considering he worked alongside some pretty famous ones. Or if Ronnie realised that he wasn't in that movie because it was real life...or was it?
All in all it is a sad look when you wrap a dead guy in a flag and try and pretend that you know what he thought about something 7 years after Alzheimers killed him.