Right

: Fooling around with trebuchets is
all

very well
until
a plummeting mutant injures
an innocent T'ao T'ieh. Here at

Riddled

we
condemn irresponsible stunts no matter how
often you call the result a "Freak Accident".
Posting
about trebuchets
, B
4
links to
an account of the trebuchet
constructed by Cortez and his cohorts during the siege of Tenochtitlan:
However, the Spanish forces failed to aim the unit correctly, and it launched a boulder straight up. When the rock fell back to earth, it demolished the trebuchet.
There is something strangely appealing about machines whose function is only to destroy themselves.
"My theory," said Another Kiwi, signalling to the bar for another spirulina daiquari, "and it is mine, is that
Jean Tinguely
borrowed the
Riddled
time machine to travel back to 1521, where he posed as a veteran and talked the conquistadors into providing him with the materials to construct one of his self-dismantling art installations disguised as siege machinery.* Also he may have traded with the Aztecs for chocolate, which is why there is now a faint dusting of cocoa all over the keyboard in the cabin, which totally wasn't me."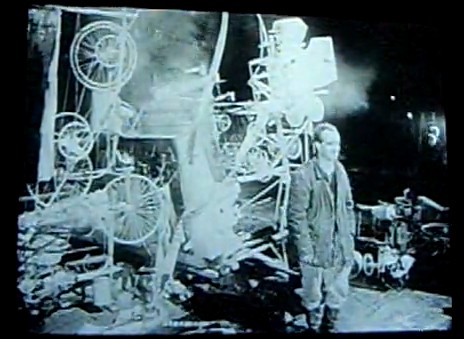 "The interesting thing," I said, "is that in
The Conquest of New Spain
-- the only first-hand description of the siege --
there is none of this
:
So they placed a suitable stone in the sling, but all it did was to rise to the height of the catapult and fall back to its original place.
Cortez [...] at once ordered the catapult to be taken to pieces..."
Naturally I started wondering when the 'self-demolition' aspect attached itself to Cortez' story. It appears, for instance, in a
2006 paper
in the
Estonian Journal of Archaeology
, which focuses mainly about Estonians' familiarity with having things thrown at them; but in passing it does refers us to a
1995 paper
in
Scientific American
in which the self-demolition embellishment is firmly in place:
The machine took several days to build, and at the first launch the stone went straight up, only to return and smash it.

I can't be arsed looking for any earlier examples so let's say that
Scientific American
** is Patient 0 in this particular example of the human ability to reshape history into pleasing narratives.
Chavedden et al.
go on to describe 1521 as "The last instance of trebuchet use", but Someone is Wrong on the Internet:
The last known case of trebuchet use for military purposes was in 1779, when the British used it to bomb Spaniards who were on a position at the bottom of a gorge inaccessible to cannons.
In other news, Danish archaeologists get
all the fun
.
"You are still loonies," said Evangaline Van Holsteren, head barmaid. "How about you take a break from the hard stuff and have a nice chili-and-jellyfish hot chocolate instead?"
-----------------------------------------
* Speaking of time machines, who gave the builder of a 1185 trebuchet the idea of calling it "Their Mother"?

** Back when it was still funny.