Idea for a fantasy novel in the
Jorkens
/ club-story genre: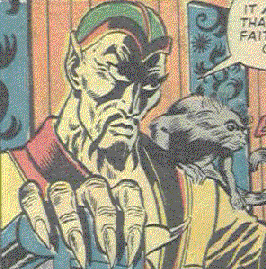 The tame animals / familiars belonging to various cartoonish supervillains have their
own club
.* Their contracts allow them a night off once a month from perching on their employers' shoulders, which they spend instead at the
Daimonion
swapping stories of supervillainish incompetence.
Accompanied by his Gaki, the Biwa mulls over his
plan to conquer the world with pentatonal music.

Some chapters centre on the perennial grumbling about supervillains who pretend that their devilishly brilliant schemes for world domination and wealth beyond the dreams of avarice are their own inspirations, and that the tame animal on the shoulder is just there to provide ironic counterpoint to their brilliance (or to implore "Don't go! Don't go!" in the case of
Haze-Gaunt's spectral tarsier
). How the club members would like to set the record straight.
The typical animal-on-supervillain-shoulder is a primate. The club members are still arguing whether to relax the rules and admit
strap-on electronic memory-augments
that have advanced from merely reminding their owners of appointments to controlling their neurochemistry and running their entire lives. Inevitably there are supervillains who want to show off with more exotic, more expensive animals but the pet-rhinoceros-perching-on-the-shoulder experiment has not been repeated.
An animal on one side is enough. Going for a pair is generally regarded as try-hard.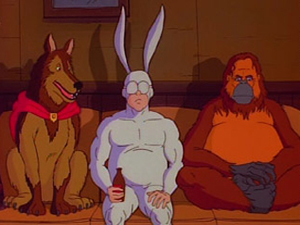 * Idea completely unstolen from the Sidekick Lounge.
UPDATED with
bonus
Gogol the
alien telepath, (a) to show that cats belonging to supervillains are welcome in the Daimonion Club as long as they meet the 'sitting on shoulders rule', and (b) as an excuse to add the 'helping tigris' tag.