One of the untold stories of Modernist literature was the film-script collaboration between Beckett, Borges and Flann O'Brien. The only surviving witness to the whole project is Dan "the Pro" Scenium, a fellow barfly with stagehand experience who advised the trio of Hollywood wannabees about the practicalities of their stagecraft ideas. Since then he has maintained professional stagehand confidentiality, until his lips were recently loosened by two pints of Old Carbuncle and one of Mrs Miggin's huhu-grub hotdogs.
Apparently O'Brien had chosen to work on the closing act of the script. So here's the version he eventually published in his Irish Times column in the early 1950s:
Borges'
1949 version
does not include the potentate's return to power, concentrating on issues of personal identity during his exile. The court is reduced to a lion and a Nubian slave, and although Borges considered the notion of locating it in London,
he preferred to shift the action to the coastline of Cornwall. Also the "meteorological station" becomes a large circular building with a raised penthouse at the centre -- first in the cyclic architecture of circular ruins and Parsi Towers of Silence that furnish the Borgesphere.
Beckett's
1965 version
stripped this labyrinth to its simplest form: a sealed rotunda 36 inches high containing two people.
White too the vault and the round wall eighteen inches high from which it springs. Go back out, a plain rotunda, all white in the whiteness, go back in, rap, solid throughout, a ring as in the imagination the ring of bone.
Beckett did not help much at all with the plot or the characterisation, and his co-authors did not think he was pulling his weight. Also he was nowhere to be found when it was his turn to buy the chocolate Tim-Tams.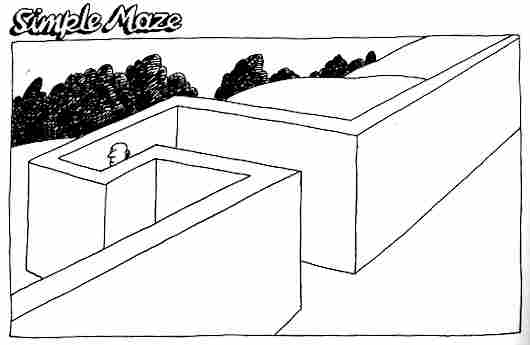 Between them they drove Dan to distraction. One day Borges might have him building a giant labyrinth (painted scarlet) for the set; and just when it was complete he'd change his mind, and be all "No, O'Brien's endless beach between the sea and the cliffs is the superior labyrinth -- no stairways to climb, nor doors to force, nor unending galleries to wear one down, nor walls to block one's way."