Who among us has not dreamed of winning the loyalty of the ferocious Northhound pack -- guards of the Citadel and servants of the Lords Protector -- by slaying their previous leader in single combat? For any fule kno that Northhounds, though larger than normal wolves and possessed of the power of telepathic fear-projection, have the same hierarchy of dominance in their pack, with an Alpha Wolf and Beta wolves and so on all the way down (fortunately wolves have learned the Greek alphabet), in which one can ascend through one's charisma and strength.
So
this is disappointing
and dream-quashing:
The Abstract says it all, albeit in vanishingly small print:
The authors showed that the observed hunting behaviour of a pack of wolves could be explained without assuming signalling among them, or prior planning, or any hierarchy of dominance and leadership.
It is almost as if ethologists have been watching wolves for umpteen decades through human lenses, and projecting their models of
human
social organisation onto them. No wonder we find their alpha-wolf / beta-wolf generalisations such an appealing pop-psychology metaphor for human antics.*
Two questions remain:
(1) Was there a tradition, or an old charter or something, that all wolf-themed fantasy editions through the 1970s and 1980s should have the cover lettered in Serif Gothic Bold?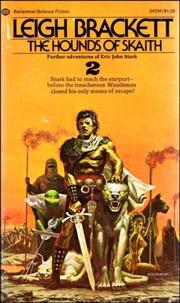 (2) Why was
Bruce Pennington
never commissioned for the cover art for the Skaith trilogy? If this doesn't sound up Pennington's alley then
your soul is dead
:
"The lamp of the North, like a burning emerald, dominated the sky. The short days of the darklands were little brighter than the nights. Old Sun's dull gleaming stained the sky rather than brightened it. The white snow turned the color of rust, and the vast plain, strewn with the wrecks of abandoned cities, tilted upward to a distant wall of mountains all dabbled in the same red-ochre. The line of great wagons creaked and crawled across this unreal landscape, sixteen of them with canvas tops booming in the wind."
All we have is this French translation, which does not count, as any fule can see that in lieu of paying for something new they have shamelessly taken a crude photocopy of Pennington's cover art from a collection in the Cthulhu mythos.
Truly publishers are scum of the earth and unmitigated scoundrels.

* Rather like Grizzly-Man Treadwell and his insistence that he was really a grizzly-bear trapped in a human body; all the while oblivious to how bears actually behave, because he could only see them as idealised versions of himself.
UPDATE: Bonus Kiplage. It turns out that
"Mowgli's Brothers"
loses much of its power when you re-write it as a series of interrupts and semaphores between separately-threaded autonomous agents in a computer simulation.